Dear friends,
We are now very close to the beginning of the festival, just a few days and Pranic World Festival 2016 will open the gates of the pranic adventure.
If you want to talk or share workshops or other ideas for the festival, write to: info@breatharianworld.com
MAP OF THE FESTIVAL
Here is what you'll receive when you check in, the map of the festival, start studying here 🙂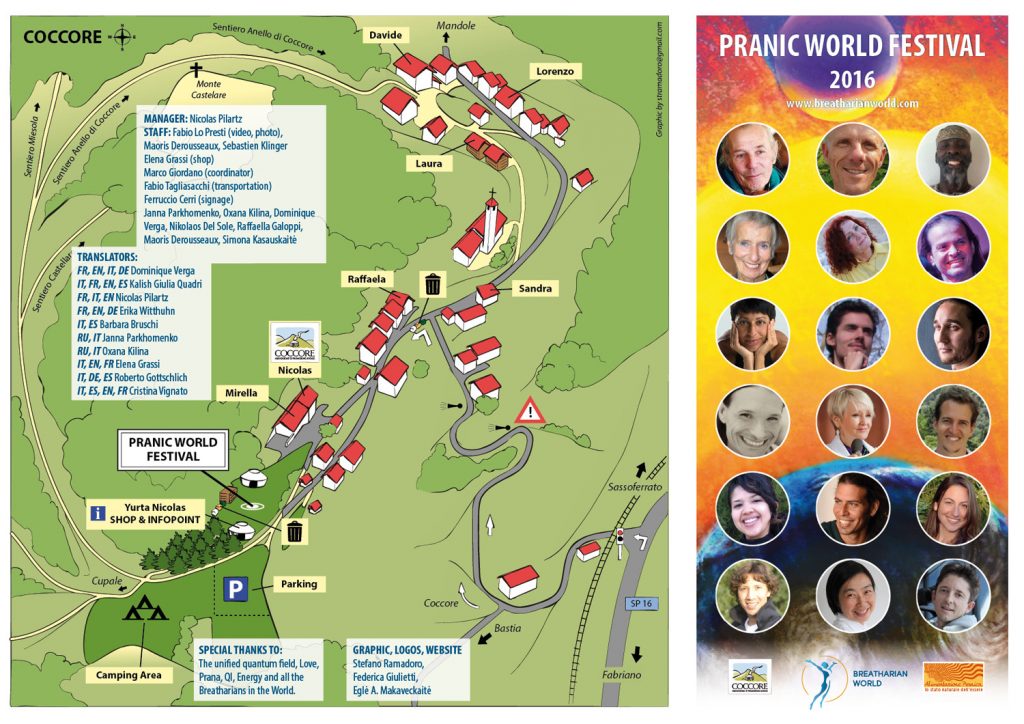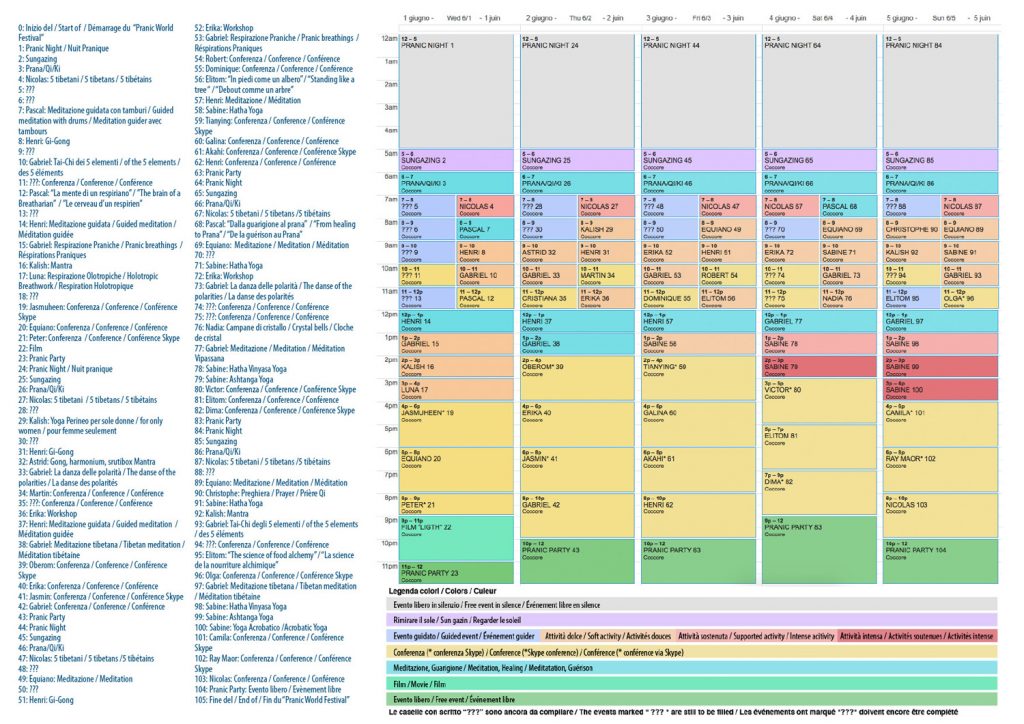 BUS
We are organizing a bus system to bring people from the train station of Fabriano to the festival, you must write a message on Facebook to FABIO TAGLIASACCHI, in a clear and simple way, NUMBER OF PEOPLE: ? NAME FORENAME: ? TIME OF ARRIVAL IN FABRIANO: ?. If you don't have Facebook, send a message on his phone number : +39 3484443250.
and just wait that someone will pick you up …
TRANSLATIONS
The minimum translation will be done in Italian language for all the speakers, then for all the other language we have this solution …
The school of language "Poker di Lingue" is giving us the opportunity to have special translation helmets to be able to make multilingual translation, over 60 will be available for 10 euro rent for all the festival, available at the INFOPOINT ! Translators are all volunteers and we don't guarantee that all the speakers will have the right translation you expect, it will be following the flow of the here and now, thanks 🙂
This is our translator team :
Dominique Verga, French, English, Italian, German
Cristina Vignato, Italian, Spanish, English, French
Erika Witthuhn, French, English, German
Elena Grassi, Italian, English, French
Roberto Gottschlich, Italian, German, Spanish
Nicolas Pilartz, French, Italian, English,
Kalish Giulia Quadri, Italian, English, French
Barbara Bruschi, Italian, Spanish
Janna Parkhomenko, Russian, Italian
Oxana Kilina, Russian, Italian
Any other wants to help …. ???
INFOPOINT/SHOP
When you arrive at the festival, if by car, please go and park in the parking zone, and then go to the INFOPOINT to resistor, tale your pass and receive the map festival and the explanation you need. At the shop, you'll find, books, dvd, t-shirts and other surprises …
REGISTERED
We have more than 150 registered, coming from all European countries, mostly Italians, many French, from Russia and from other continents … regarding the Pranic levels, most of you are 2 and 3 level, very few of 4 and 1 level, thus i can guarantee you a very high level vibration, rich of prana 🙂
VIDEO AND FOTOS
We have a video staff who will do a movie of all of it, we'll try this best we can to offer professional documentary to spread the good news all over the world ! We need your help to sustain the cost of the festival, booking of the movie will be available at the INFOPOINT, 10 euro during festival and 15 when it will be available we hope during this coming august ! We remind you that the festival is copyrighted belonging to the entity that is producing the event, "Coccore no profit association off social purpose". We accept that for private use you can share you fotos always keeping in mind to protect privacy of people and use common good sens for the unity of the all. You can also send us your best pictures here : info@breatharianworld.com, or via the Facebook page Pranic World Festival, thanx.
TRASH
Please understand that the small place of Coccore won't be able to sustain much of it, so if you go to the city, please take the trash with you as much as you can to distribute evenly in other places. We would like to avoid ecological disasters, anticipating events is raising awareness. They are two places on the festival map for the trash, with 3 colours, yellow for plastics and cans, white for paper, and green for glass.
PARKING
Roads are not to ways, and they are small and narrow, please try to use the car the less possible, use your legs instead, prana works better with movement. So park the car and just bliss with nature … Please drive carefully and respect the surroundings with a slow and harmonious drive. They are some dangerous curves, where you should use the klaxon.
SPEAKERS
We have 18 "main speakers" : Henri Monfort, Gabriel Lesquoy, Elitom El-amin, Erika Witthuhn, Galina Al Sharas, Nicolas Pilartz, Sabine Yogacharya, Equiano, and the following ones will be by videoconference live, Dimitri Lapshinov, Victor Truviano, Jasmuheen, Oberom, Jasmin Herrera, Ray Maor, Camila, Akahi, MasterTianying, P.A. Straubinger, that you can see here :
https://www.breatharianworld.com/bio-partecipanti/
But not only, we have added special guests that will speak in short one hour conferences, you will discover too these 6 speakers : Martin Bruncko, Robert Ganski, Dominique Verga, Olga Podorovskaya, Pascal Martelli, Cristiana Eltrayan, that you can see here :
https://www.breatharianworld.com/ospiti-speciali/
PROGRAM
We have more than 104 events, the program is always updated :
https://www.breatharianworld.com/programma/
SOLID FOOD
During the Festival, if you still "eat", you have to take with you what you need and eat in your tent or in your room or your place of rest. In any case, nothing will be prepared or cooked, or sold in the place, no table will be prepared, and there is no scheduled time to eat … it's all a bit 'normal, it is a pranic festival! That said, you can also go to the restaurant in the city or nearby, and you'll find something in the area if you want to eat off site.
REGISTRATION
I remind you that the Festival is a private event organized by "Coccore: Social Promotion Association", an NGO created to manifest the new world and help to the transition for the new paradigm.
The registration are now closed, in case you have any question, contact : info@breatharianworld.com
COCCORE
Coccore is a small (and nice☺) village, with little more than 15 houses, in the nature, with sweeping views of the mountains and a valley of hills and woodlands of the Marche region in Italy. The people living in this place have a very open-minded and all apartments will be near the festival. This event aims to live five days TOGETHER, in harmony with nature and prana. There will be yurts, tepees, and plenty of room for tents.
JOURNEY
Here you will find the signs to reach the festival:
https://www.breatharianworld.com/come-raggiungerci/
Please organize your journey with your pranic national community
The web is full of possibilities for sharing and getting the information on how to get to the Festival !here the
https://www.facebook.com/Pranic-World-Festival-1662565547350265/
Facebook page of the Pranic Festival to organize the journey
italian : https://www.facebook.com/groups/795311907171133/
french : https://www.facebook.com/groups/28394139523/
english: https://www.facebook.com/groups/509442155886231/
german : https://www.facebook.com/groups/768717609940802/
greek : https://www.facebook.com/groups/1573081292930901/
russich : https://www.facebook.com/groups/1059305080795819/
If you have specific questions, you can also contact the members of our coordination team:
Italian:
Nikolaos Del Sole (FB: https://www.facebook.com/niccolo.cimino?fref=ts)
+39 3480734664 (Please send a message before dialing)
French:
Dominique Verga (FB: https://www.facebook.com/dominique.verga?fref=ts), dominique.verga@gmail.com
English and German:
Randi Liebchen (FB: https://www.facebook.com/rose.simmons.56?fref=ts)
randi1@web.de
Spanish:
Barbara Bruschi (FB: https://www.facebook.com/barbara.bruschi?fref=ts), barbara.bruschi@mail.com
Russian:
Janna Parkhomenko (FB: https://www.facebook.com/janna.parkhomenko.5?fref=ts), jannacosmo11@yahoo.it
Thanks for everything ☺.
See you in the bliss ☺,
Nicolas